Welcome to Aoharu x Kikanjuu Wiki!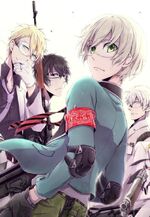 Aoharu x Machinegun is a wiki about the manga and anime, Aoharu x Kikanjuu created by NAOE. This includes chapters, episodes, characters, and anything else related to Aoharu x Kikanjuu. The wiki format allows anyone to create or edit articles, so we can all work to make a comprehensive database about Aoharu x Kikanjū.

Aoharu x Kikanjuu (青春×機関銃) is a Japanese manga series written and illustrated by NAOE. It was serialized in the manga magazine, Monthly GFantasy since January 2013. Square Enix published the manga into seven volumes till date. Currently, Yen Press holds the license to publish the manga digitally in North America.
Don't know anything about how to edit? Here are some guides that can be helpful for you:
Don't know how to help or improve this wiki? Here are some links that can guide you:
Here at Aoharu x Kikanjuu Wiki we have some rules for the users behavior and edits. Follow this small list of rules and you will have a great time here:
Foul language is not allowed under any circumstances.
Illegal content is forbidden on the Wiki.
Vandalism will result in an immediate and one week ban.
All of the pages should include real, factual content.
If the edits you make do not provide anything to the wiki, you'll be warned.
Characters
About Aoharu x Kikanjuu
Hotaru Tachibana is a girl (though all too frequently mistaken for a boy!) with a deep sense of justice. When a classmate informs Hotaru that she was bilked out of her cash by a shady host at a host club, Hotaru immediately rushes to confront the villain only to discover that the con man in question is her new neighbor! Worse, he proposes to settle their feud with firearms! Okay, it turns out that they're just toys, but when Hotaru is soundly defeated, she finds herself sucked into the world of survival games. Is this new world one she can actually escape?? (Source:Yen Press
Featured Image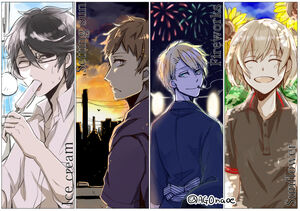 Refresh for another Featured Image.
Poll
Featured Character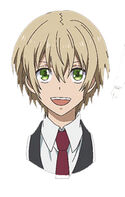 Hotaru Tachibana (Japanese: 立花蛍 Tachibana Hotaru) is the main protagonist of the series. She is good friends with Kanae Yajima and is the Student Council President of her current High School; in addition to being affiliated to her survival game Team, Toy☆GunGun

Hotaru prefers calling herself as "Tachibana" in third person. She owns the the Heckler & Koch G3SAS High Cycle Airsoft gun.

As soon as the series kicks-off, Hotaru is shown to have a very strong sense of justice and wants to fight all "evil", as stated by herself.
Affiliated Wikis