We'll Crush That Hope
Kanji

その希望、早くブチ壊してあげなきゃね

Rōmaji

Sono Kibou, Hayaku Buchikowashite Agenakya ne

Japan Air Date

August 14, 2015 (JST)

Episode

7

Opening Song
Ending Song

Episode Guide

Previous
← The Storm is Coming
Next
What Controls Your Mind Now →
We'll Crush That Hope (その希望、早くブチ壊してあげなきゃね Sono Kibou, Hayaku Buchikowashite Agenakya ne) is the seventh episode of the Aoharu x Kikanjuu anime series. It aired on August 14, 2015.
Synopsis
Edit
Team Toy Gun Gun are ready to face Team Hoshishiro in the first round of the Top Gun Contest. This is very unexpected, since team Hoshishiro are four-time winners, while Toy Gun Gun, though strong, didn't even compete in the previous year. While Tachibana deals with the pressure of being around hardcore TGC participants, Matsuoka deals with his fear of Midori, the leader of team Hoshishiro who traumatized him during their last TCG together. When Tachibana sees team Hishishiro go by she notices that Midori has two guns on his back. She assumed only Matsuoka duel-weilds.
Matsuoka tells his team his plan for their match against Hishishiro. Yukimura accepts it, but Tachibana does not like it. However, she doesn't have a better plan. Moreover, she doubted Matsuoka in the past and regrets it, so she agrees to follow along.
Mr. Soushi, the TGC promoter announces that the first match of the TGC is about to start. It'll be a 20 minute deathmatch held in the forested field of the battlegrounds. Whoever eliminates all of their opponents or has the most members alive after 20 minutes wins.
When team Hishishiro hears the battle begin they ask Midori what his plan is against Toy Gun Gun. He says he doesn't have one. He tells them that it's been a year since he's fought them, and all TGG has thought about was killing him. He wants to enjoy crushing their hopes of beating Hishishiro. And he'll do it by using the strategy he knows Toy Gun Gun will use- one on one combat. Midori's teammates have complete trust in him so they agree to go along with his plan. Suddenly there is motion nearby. It's Tachibana. She races in front of them, panics, and returns to her teammates. She apologizes for scouting too far ahead and is scolded for not shooting while she was over there. Midori comments that the match only started 48 seconds ago. So for Tachibana to reach them on the other side of the battleground she must be really exceptional. Fujimoto volunteers to go after Tachibana, since he is good against people who run around a lot. As he leaves Ichi tells Midori that they should leave too, since Tachibana is still running around. But before they split up she notices a glimmer of light in the distance and shoves Midori out of the way. She realizes it's a sniper (whom she calls 'scruffy four-eyes') and takes off to fight him, since she's a sniper too.
As Ichi sets out to find Yukimura she comments to herself that he is using a Dragunov. Because it slightly varies from regular sniper rifles, someone using it at the TGC must be either eccentric or a natural sniper like herself.
Yukimura watches Ichi go and thinks to himself that sniping comes down to who finds who first. He is aware that she knows exactly where he is because of his warning shot. He knows that she won't go straight after him like an attacker. Instead she will find a high vantage point to look down at the battlefield. He spots one and sure enough sees a glint of light from there. So he prepares to fight her.
He breaks down the process of sniping into 6 steps: search, catch, arrangement, aim, shooting and hit. But once he's gone through all of the steps to shoot at her location and doesn't find her there.
Before Yukimura went to look for Ichi, Ichi was setting up her gun on a hill. She says she loves snipers because they support their teammates. But she'll give up sniping anytime to see the faces of her enemies up close before she kills them. With that, she leaves her sniper rifle at the top of the hill and descends is with a smaller gun in hand. She knows that another sniper will circle around the hill, arrange himself and his gun, and wait for the best chance to shoot. This is where a sniper is most vulnerable-- their back is totally exposed while they try to shoot. Close-quarter combat is not good for snipers.
She sees his Dragunov set up but when she reaches it he's nowhere to be seen. He then appears behind her with a smaller gun, comments on her breasts, and tells her he likes to see such things up close.
Meanwhile, Midori is sitting and thinking that Toy Gun Gun split Hishishiro up on purpose to weaken them. But it also has the affect of weakening them too, so Matsuoka must have a good reason for doing this. Perhaps it's because he has faith in each team members' strength. Then he addresses Matsuoka, who is hiding in the trees. Matsuoka comes out and tells Midori that he split them up so the two of them could fight each other with no one else in the way.
Back to snipers, Yukimura is about to shoot Ichi. But she quickly kicks the gun out of his hand. She starts to shoot at him and evades her attacks by running behind a tree. As she rushes over to find him he appears behind her. He grabs his Dragunov and aims it at her which sets her running away. Yukimura hides and considers the situation. Ichi will either find another sniping spot or attack him head on again. But when he thinks of what he'd do in her position he realizes a third option- go back to Midori and help him find Matsuoka.
Elsewhere on the field, Fujimoto is calmly walking through the forest holding a minigun. Tachibana hides behind a tree close to him and wonders how he could just casually walk around unguarded. She wonders if he can't manuver because his gun is too big and decides she should take advantage of that. So she rushes out to attack but steps on a twig. It snaps loudly, and Fujimoto instantly hears it, turns in it's direction, and opens fire. His minigun rapidly fires and damages the landscape all around them.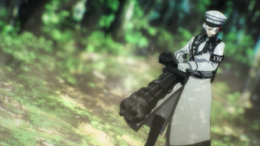 As Tachibana hides from the pellets she remembers talking to Matsuoka about Fujimoto's weapon. She learns that it is a minigun, and that this model is also known as a "painless gun". It's very powerful and kills you before you feel any pain. And people call a person who uses one an Assault Destroyer. Matsuoka also told him that the entire minigun system weighs about 20 kilograms (roughly 44 pounds). So Tachibana thinks Fujimoto will be slowed down because of it. So she takes off at a run to put distance between them and collect her thoughts. But Fujimoto sprints after her, showing just how strong he is. He chases her until they reach the end of the field.
Tachibana is in a mild panic and Fujimoto can see it. So he asks her if she's a newbie and she says yes. He tells her she can forfeit the match if she wants to. That way, she can pretend she got shot and leave the field unharmed. He explains to her that facing a strong team like Hishishiro, especially one with a minigun, during her first TCG could traumatize her. Tachibana doesn't understand why he's being so nice to her considering he's a part of the team that traumatized Matsuoka. She thinks Fujimoto is trying to trick her but he says he isn't. He says he's played against Toy Gun Gun before but didn't trick them, and asks if mayby they have lied to her. Tachibana is confused about who's telling the truth- Matsuoka and Yukimura, or Fujimoto. None of them seem to be lying. But she cannot worry about that right now. She still wants to compete because she still wants to win. For herself and for her teammates. So they formally introduce themselves before they begin again.
Tachibana rushes towards Fujimoto, who assumes she does it because the barrier is behind her. She veers towards his right side and he wonders if this is calculated or not. He says it's harder to shoot right than left with a minigun. But he says it doesn't matter to him how she comes at him. Suddenly she switches her gun from her right hand to her left. As he wonders if Tachibana is ambidextrous she appears from the trees, accelerates, and slams her right hand on the barrel of his minigun, pinning it to the ground. And now he can't shoot or the pellets will ricochet off the ground and hit both of them. Suddenly Tachibana is runs up his minigun, steps on Fujimoto's shoulder, and leaps into the air and lands behind him, ready to shoot. But when no shot is fired and Fujimoto asks why, Tachibana realizes she's left the safety on her gun. She begs to be killed but Fujimoto says that he was the one who died. He congratulates Tachibana on her attack. He says his slowness to pull the trigger is what killed him. Then he breaks down in tears over Tachibana stepping on his minigun. Tachibana apologizes and asks why he would choose to use something so heavy. He tells her that there are guns easier to handle that have a lot of fire power as well, but it's his bond with Midori that keeps him using it.
Fujimoto tells Tachibana to go back to his friends while he returns to the safe zone. Tachibana asks if team Hishishiro will be at a serious disadvantage without him but he says to be careful because Midori is strong.
Image Gallery
Edit